Assembling Transformers For Superior Quality & Results
Our value proposition is to furnish the most reliable transformer that is shipped and installed in a timely and flawless manner to the site and monitored and serviced to last for decades.
Coil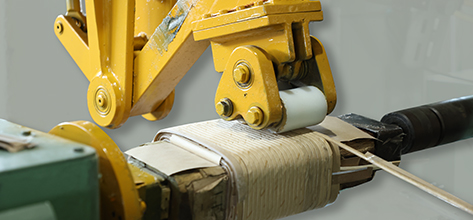 A coil is used in transformers for converting power-level voltages from one level or phase configuration to another.
Our design department develops the type of coils depending on voltage class and transformer ratings.
Solid insulating materials such as electrical grade Kraft paper, pressboard as per IS:1576 and perma wood are used for making the coils.
For reducing the temperature of winding, oil and hot spot, sufficient cooling ducts are provided.
As per the seasoning cycle, all coils are preshrunk to withstand mechanical forces that are developed during short-time overload and short-circuit conditions.
Aluminium wire/Copper Wire used for making coils is manufactured in House from Metal rods directly procured from manufacturers such as Nalco/Hindalco/Balco.
Core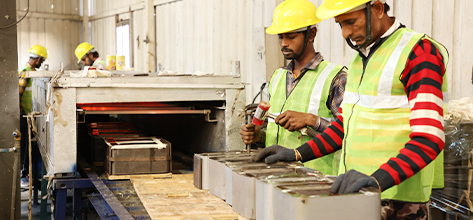 The magnetic core is employed to confine and guide the magnetic field in transformers that possess high magnetic permeability.
It is made up of prime high-quality CRGO generally M4Grade, M0H, M1H and HIB Grade.
We are equipped to manufacture Amorphous Core Transformers which is a new technology that helps in producing transformers with ultra-low no-load losses.
The laminations are coated with heat-resistant insulation such as oil and are free from burs.
Laminations are mitred, cut and annealed in a continuous annealing furnace for uniform heat treatment.
This helps in minimising the stress created during cutting and punching.
It is constructed through interleaved mitred joints to gain uniform flux density, minimum core loss and minimum excitation power.
Oil
Oil is used for insulating high-voltage electrical equipment and components of transformers. It is made to operate effectively at high temperatures for cooling and insulating.
The use of dehydrated mineral oil as per IS:335 (1993) and Ester Oil ensures proper cooling and insulation of a transformer.
The oil procured is thoroughly checked for tan delta, resistivity, flash point, B.D.V. neutralisation, etc. for ensuring the ageing characteristics.
Assembly
During the assembly process, the core, coil, tank, fittings and oil are put into place. The detailed steps during the process are listed below.
All coils are preshrunk before the assembly process.
The core coil assembly is properly dried for removing moisture before placing it in the tank.
The terminations are provided as per the rating/requirement with proper insulation and size.
Dual-coat painting is done with Polyurethane paint on appropriate primer as per the application with shades for suiting the customer's requirements.
Painting & Finishing
Before painting the transformer, each tank is shot blasted for removing any oil, grease and rust scales from the tank body as well as welded joints and for creating a surface for proper paint adhesion and long life.
Eventually, a coat of finish paint is applied as per the Customer's requirement.
The internal surface of the tank body is then cleaned and a coat of hot oil proof zinc enriched primer or oil-resistant varnish is applied. They are further subjected to check for verification of fittings and accessories as per the requirement and then subjected to an air pressure test as per the latest IS 1180 Provision.
Test & Inspection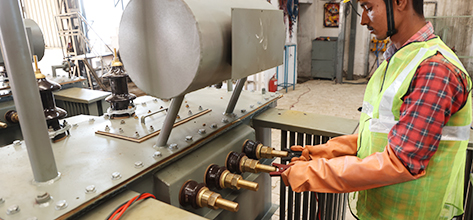 Every raw material used for the manufacturing of the transformer is subjected to the required inspection tests and procedures.
During the process of manufacturing, high-end inspection is carried out at every stage to ensure that the materials meet the required standards and quality.
The finished products are also tested and inspected by the Q.A. department as per the relevant standards and governing specifications.

Only calibrated meters and instruments are used during the tests.
Finished products are released upon satisfactory test and inspection by the Q.A. department after putting a sticker marked "Tested O.K." and sent to the packing department.
Handling & Packing
For material handling, Fork Lifts Trucks, EOT cranes, Mobile Cranes and Hydraulic Trolleys are used to ensure that the product is handled in the most careful manner.
We also ensure that the whole process is carried out with the least possible amount of jerks.
Each transformer is packed with wooden crates individually that are suitable for sea-worthy packing after bolting the channels of the transformer on a strong wooden platform.
After the transformer is stuffed into the wooden crate, it is covered with a high-density polythene sheet and tied with tape to finish up the process. To keep the interior of the box moisture-free, silica gel bags are used.
Tank
The main tank in a transformer protects the core and windings from the external environment and also serves as the container for oil along with supporting other transformer accessories.
In the transformers manufactured by Jaybee Industries, the cooling system is properly designed to have a proper self-Thermo siphon system, which helps in minimising the temperature gradient between winding and oil.
The surface of the tank is cleaned by shot blasting and coated with oil-resistant Primer & Polyurethane Paint. This process gives a very long life to the outer shell of the transformer which is made of Mild Steel.
Conservators, cable boxes, rollers and conventional-type tanks are manufactured and delivered as per the requirement & provision given in IS 1180: 2014
Tanks are tested on pressure as well as under vacuum while ensuring the necessary amount of deflection and zero leakage.
For meeting the variation of pressure inside the tank because of variations in temperature and short circuit current, they are suitably stiffened.
We have got a full-fledged In-House Tank Fabrication Line equipped with the best-in-class technology machines for excellent overall finish & quality.